Auto Tint and Accessories Blog
The Millennium…Honda
We haven't posted in a bit due to the holiday season but we're glad to be back. Unfortunately, HSBC decided to notify us (in an email no less) that they were going to close our business account on short notice despite the fact that we have banked with them for 10 years so we had a bunch of running around to do to make sure everybody gets paid. Hard to run payroll without a bank account. So, whatever you do, DO NOT BANK WITH HSBC!
Precut Window Tint Options
Anyway, I was looking up
precut window tint
because I wanted to do a piece on the options we offer for tints (e.g., front only, back only, rear windshields, visors, etc.) and I stumbled upon what is possibly the best rear windshield tint ever. Just for clarity: we DON'T offer this but kudos to whoever did this.
Related articles
Racing Harnesses – Locking Systems
I'll admit it: before we took the time to revamp our entire catalog of products I wasn't very clear on the differences between the locking systems on harnesses. In fact, until a few months ago I didn't fully understand the difference between a standard seat belt and a four-point harness. Turns out there is a big difference and we have done our level best to make this very clear to potential customers simply for safety reasons.
But Wait – More Belts Doesn't Mean Safer?!
A the risk of sounding like an idiot, that is exactly what I thought at first. I assumed that a four point harness would simply be a superior product. More belts, more restraint equals safer ridee, no? Well, not exactly. You see (and this is info freely available on the interwebs), when you pin a drvier down in her or his seat during a roll over you better be darn sure that you have a helmet on and a roll bar installed. If not, you face the very tragic possibility of serious head, neck or spine injuries as the weight of the car balances on your immobile head. So, you see, more restraint isn't always better.
Cam Locks vs. Lock & Latch Harnesses
In short, cam locks are generally more secure and more expensive than standard lock and latch systems. The latter are exactly the same king of fastening mechanism as those found in regular commuter cars so they can be open a little more easily thus reducing their safety by a smidge. Nowentheless, cam lock harnesses are not generally allowed on dirt tracks simply due to the fact that dust, dirt and debris from the courses tend to jam the mechanisms which is, as you can imagine, a dangerous situation in itself.
Conversely, lock and latch systems are discouraged at most FIA events and they often require the use of cam lock, four point harnesses. Regardless of th e type of racing we're talking about though it should be obvious that all of the cars in question are fully equipped with racing safety hardware and gear so don't pick up a harness and just throw it into your mom's Taurus.
So, that's all for now but I do hope you've enjoyed the read and that it was actually an informative piece. Let me know your thoughts, email me at michael@rvinyl.com and have a good one!
Related articles
Put a Little Class in Your Solara
We just finished making our latest customer installation slide show of the 199 through 2003 Toyota Solara dash kit in our burlwood honey finish and, despite the vehicle being well over ten years old, the end result is simply incredible. Just take a look at the video above to see how realistic this ultra-thin dash kit appears when installed.
More Toyota Dash Kits
Just because you don't own a Solara doesn't mean you're out of luck. Rvinyl.com carries custom dash kits for all years, makes and models of Toyotas. Whether you're rocking a 1994 Celica or the latest Camry to roll off the lot we have a dash trim kit for you. Check them all out here: https://www.rvinyl.com/Dash-Kits-Toyota.html
Related articles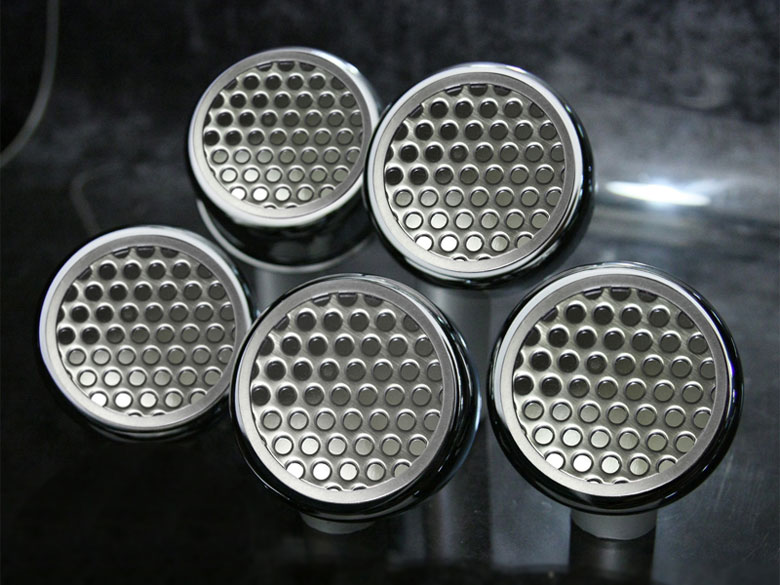 ACC Revamped and Relaunched
We're excited to launch American Car Craft's catalog of great stainless steel and chrome accessories on our site. Come check out our hard work here:http://www.rvinyl.com/American-Car-Craft.html
Whether you're in the market for custom gas caps, polished chrome dash inserts, engine bay dress up kits or fluid resevoir covers American Car Craft has got exactly what you're looking for and it can now be found on Rvinyl.com.
And, if you don't see something or simply can't find it, let us know and we will help you by chat, by phone or via email.
Related articles
ProFocos LEDs – A Primer
Rvinyl is excited to have entered the LED and halogen replacement bulb market and will shortly be offering an incredible selection of bulbs on our site. But, precisely because the market is so large, many people are confused and hesitant to even think about changing or upgrading their vehicle's lighting. At Rvinyl we have taken the time (i.e., thousands of man hours) to ensure that any bulb you buy from us will fit your exact application. So, whether you're buying a dome light for a 1988 Ford Mustang or an HID kit for your 2006 Chevy Cobalt, we have done the work to bring you the right bulb.
Sounds Simple, Doesn't It?
With all of the footwork done for you installing a replacement or upgraded LED should be a pretty straightforward affair. Yet, as with anything in life, nothing is ever as simple as it appears. Many LEDs and replacement HID kits require additional Load Resistors or Warning Cancellers because the difference in voltage between LED replacements and the original incandescent bulbs can cause what is known as hyper-flashing or, worse yet, can disable your cruise control or cause the car's computer to issue a warning. This is why we will be developing a comprehensive ProFocos Bulb and Lighting Accessory Guide in the coming months to provide you with a quick reference should you come across any issues during or after installation.
Begin at the Beginning: What Are LEDs?
In short, LED stands for light emitting diode. In comparison to the old, incandescent bulbs, LEDs are noted for their incredible lifespan (ProFocos carry a 20K hour lifespan) and versatility. Because LEDs can be used for interior, exterior and replacement turn, reverse and brake lights many manufacturers and retailers will not be able to tell you which type to use where. At Rvinyl.com, we have done the heavy lifting though so you can rest assured knowing that the color and type of LED you purchase will fit your vehicle and application area.
In the coming days and weeks we will be updating and adding more posts on LED and halogen lights to keep our customers abreast of the developments and finer points of using ProFocos lighting and accessory products. Check back soon and have a great weekend!
Related articles